Galloway NJ Newborn and Maternity Studio Tour
One year ago, I picked up my camera and did my first "studio" session. It was in my husband's office. I set up a backdrop stand from Amazon and sold some items on Poshmark to buy a roll of seamless paper. ALL off my sessions at first were done on that seamless paper for the most part.
I used the office window before investing in studio light to make sure I LOVED this genre before diving all in. Needless to say, I was hooked- even despite how challenging it is to learn & excel at posed newborn photography.
Fast forward to today, and I still have a permanent space in that office (sorry hubby) for my White Sofa and any natural light sessions, but I'm also down in the finished basement (who remembers my LuLaRoe days?) and have made that space my comfy, cozy newborn oasis. So many times I find myself sitting down there just staring around at how big this thing has become in just one short year.
A lot of my clients don't know what to expect before coming into my little space, so I'm writing up this post to give potential and current clients a chance to "tour" the space they'll be bringing their little one to!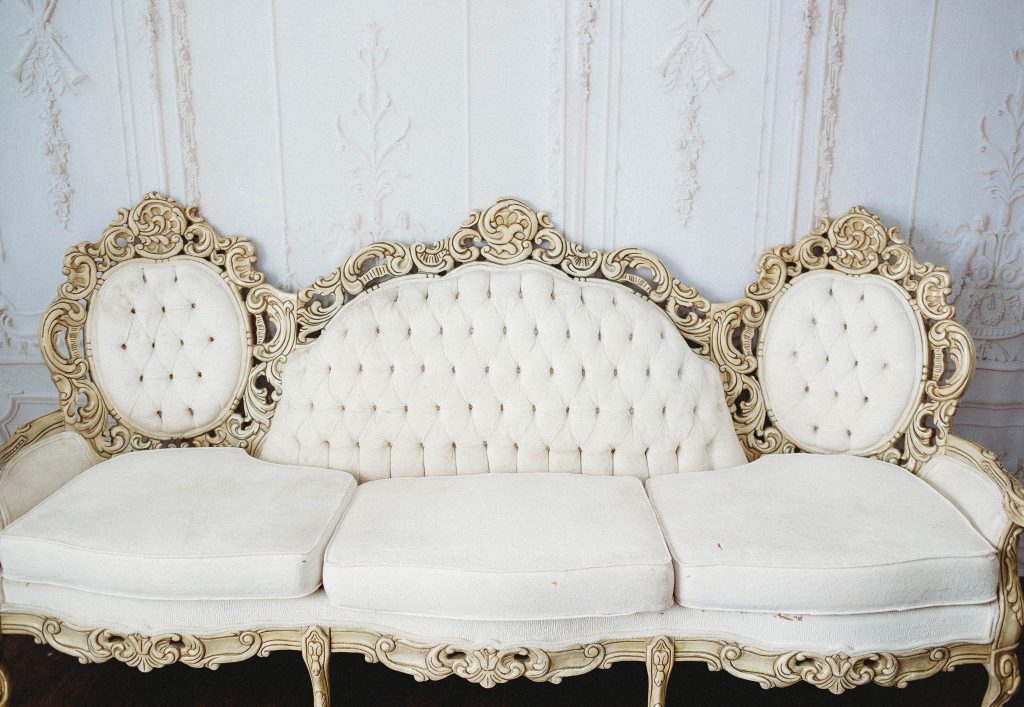 First up, the White Sofa. I had envisioned this beauty for months and months but didn't figure I'd be able to invest in one for a few years- until THIS gorgeous thing popped up on FB marketplace. I sent my hubby and brother to pick this up SO quick! EVERYONE loves it and it is perfect for every type of session I do- from maternity to baby's first birthday portraits.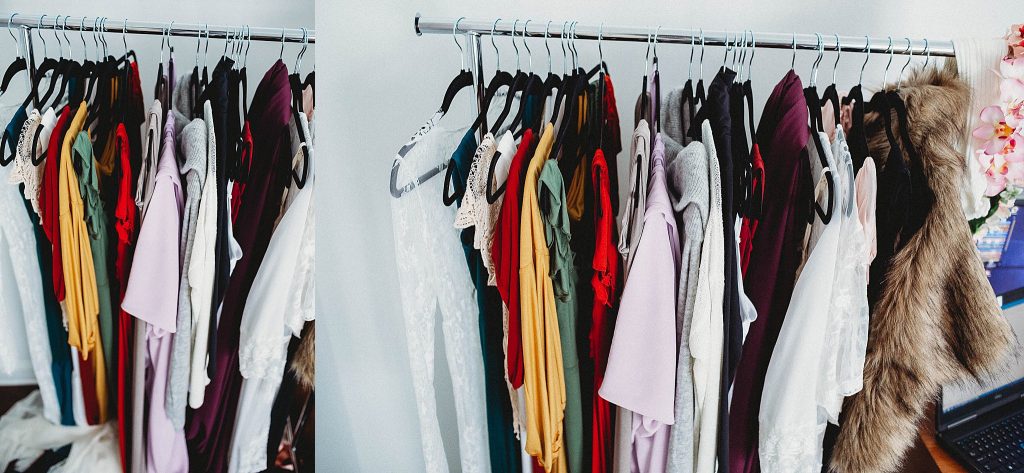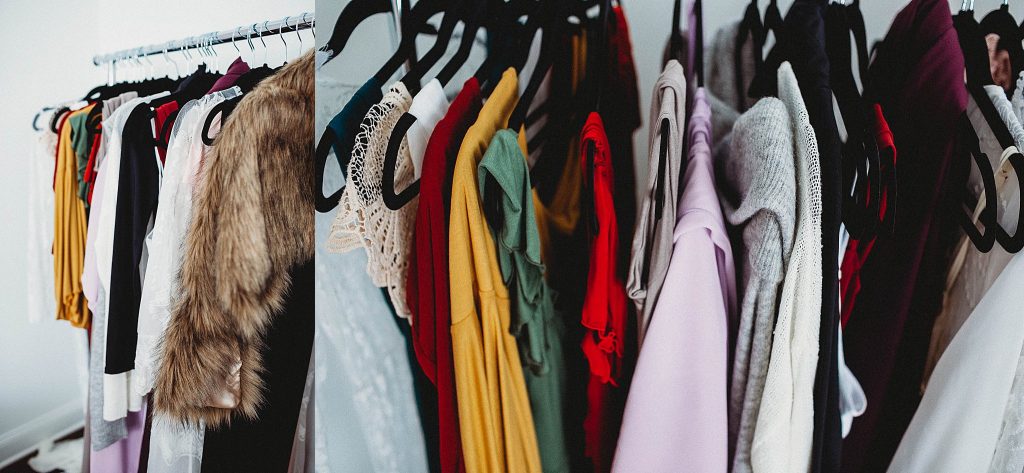 If you didn't already know, I provide an entire client wardrobe for my expectant mama clients. Having two children myself, I know how hard it is to find flattering clothing to wear when your body is going through so many changes. The last thing I would want is for any of my clients to a) feel uncomfortable or unattractive during their session due to an ill fitting outfit and b) spend a ton of money on an amazing gown they will only wear once. Thus, the client closet was born.
All of the gowns in my closet are well fitting, thick and stretchy luxurious fabrics, and photograph like a dream. All of my mamas to be feel like a queen during their session! I am ALWAYS buying new gowns, so check back often!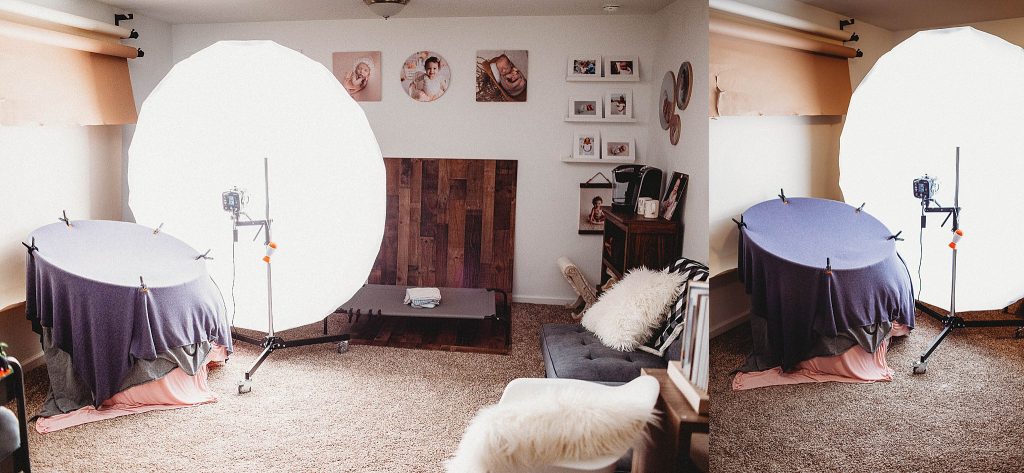 Here's the view when walking into my little downstairs space! Clients always comment how cozy it is down here. The carpet is plush, I have a diaper changing pad, snack bar, couch, pillows and a chair for my parents to relax during their newborn session. Samples of my print products adorn the walls and parents get to take a closer look, hold and feel the products they'll be investing in from their own session. My top sellers are the photo blocks, seen hanging on the wall above the wood backdrop and in a round version above my coffee bar.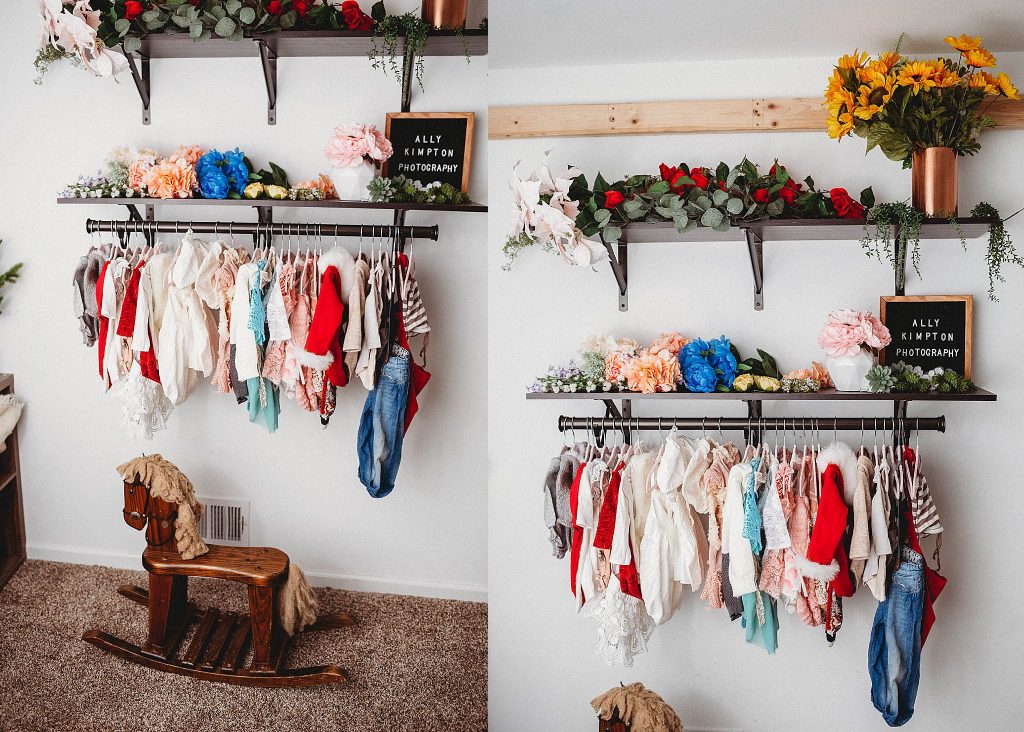 Here is the newest addition to my studio, my new shelving! My floral + greenery obsession was starting to take over my prop closet with no rhyme or reason, so this was much needed. When not in use, the florals add some lovely decoration and they are there for easy access when I'm ready to throw in a pop of floral or green throughout my sessions.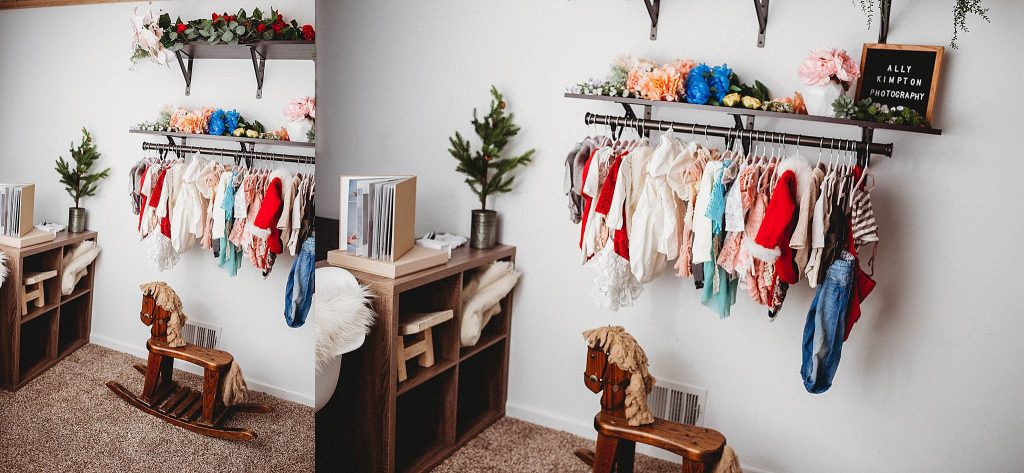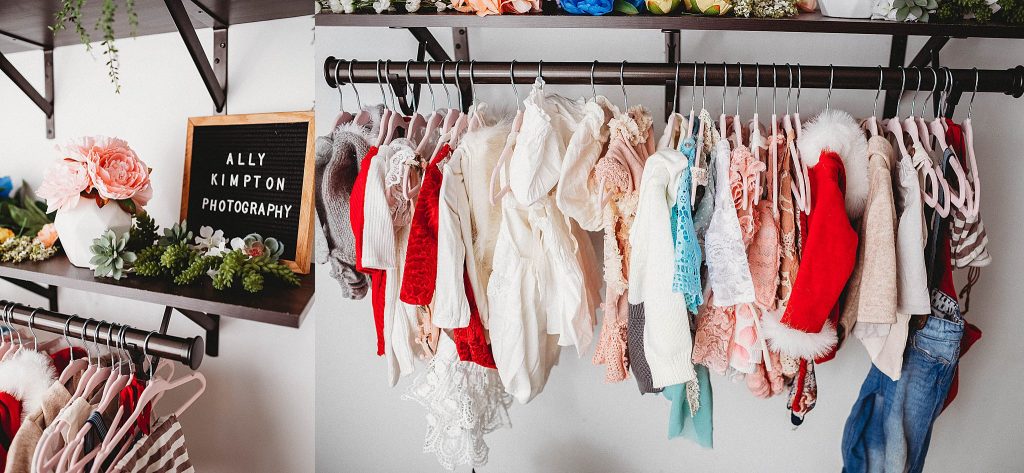 Also hanging on the shelves are my tiniest client wardrobe, from newborn through 12 month sizing. Another perk of my milestone and cake smash sessions are wardrobe is provided! Total money saver. Parents love flipping through and squealing over all of the tiny, delicate outfit choices for their little one's session.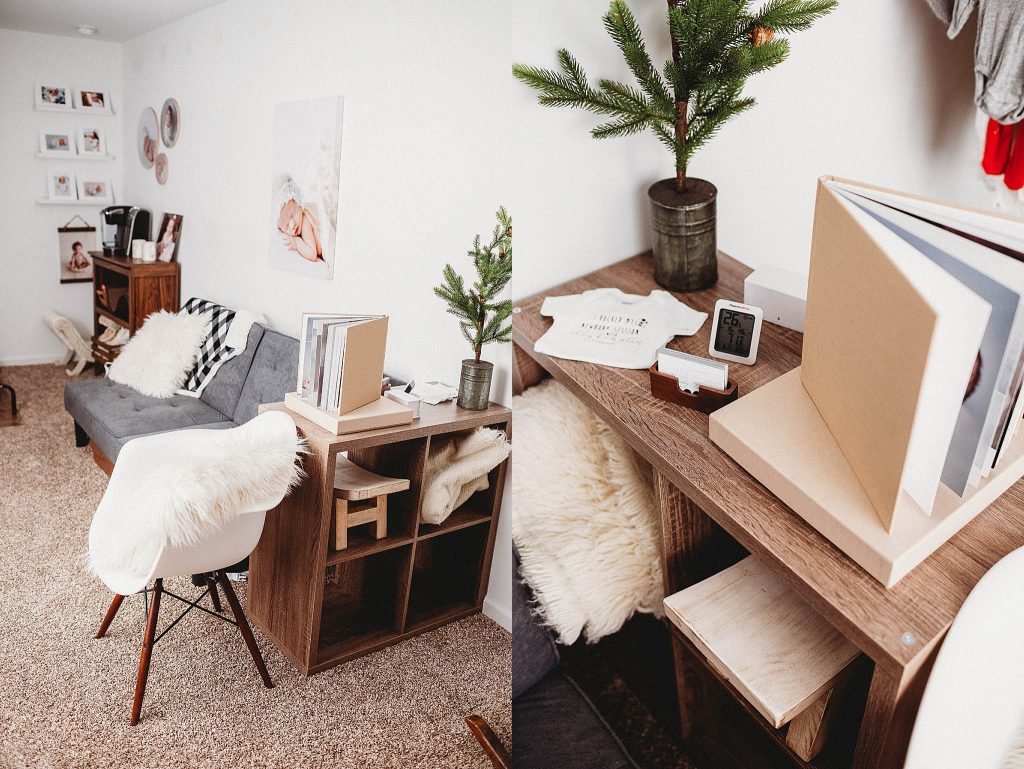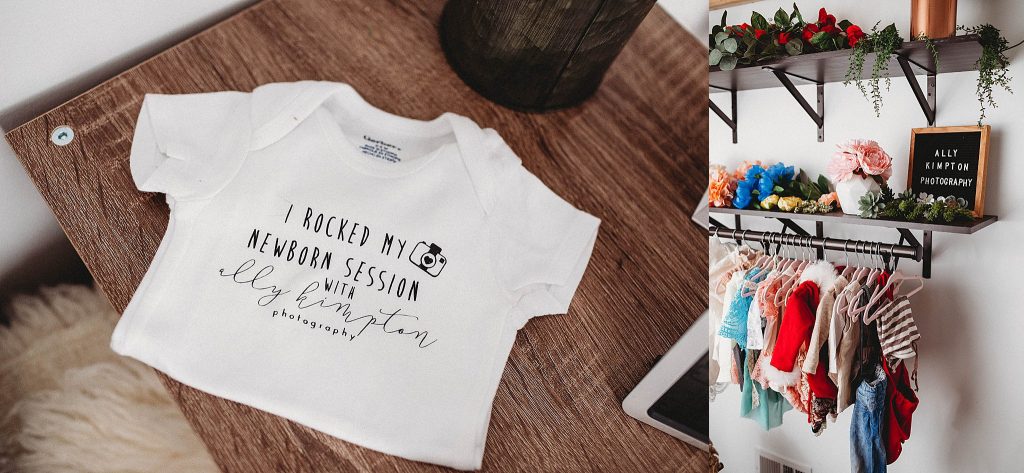 Next to my client couch I store my flokati fur rug and a few random wooden props I rotate throughout. This space is ever changing! My newborn onesie gifts also sit here, mostly so I remember to hand them out at the end of the session when everyone is exhausted!
My gorgeous linen 10×10 heirloom album sits here too, and parents love flipping through this book while their baby is being photographed. This is another top seller for newborn sessions.
Of course my thermometer sits here too- we turn off the space heater when the room temp reaches 80 degrees during newborn sessions!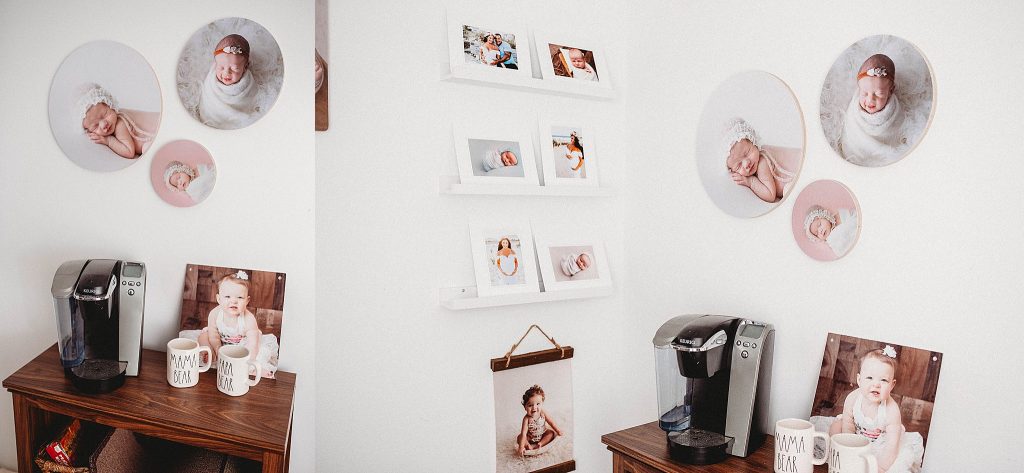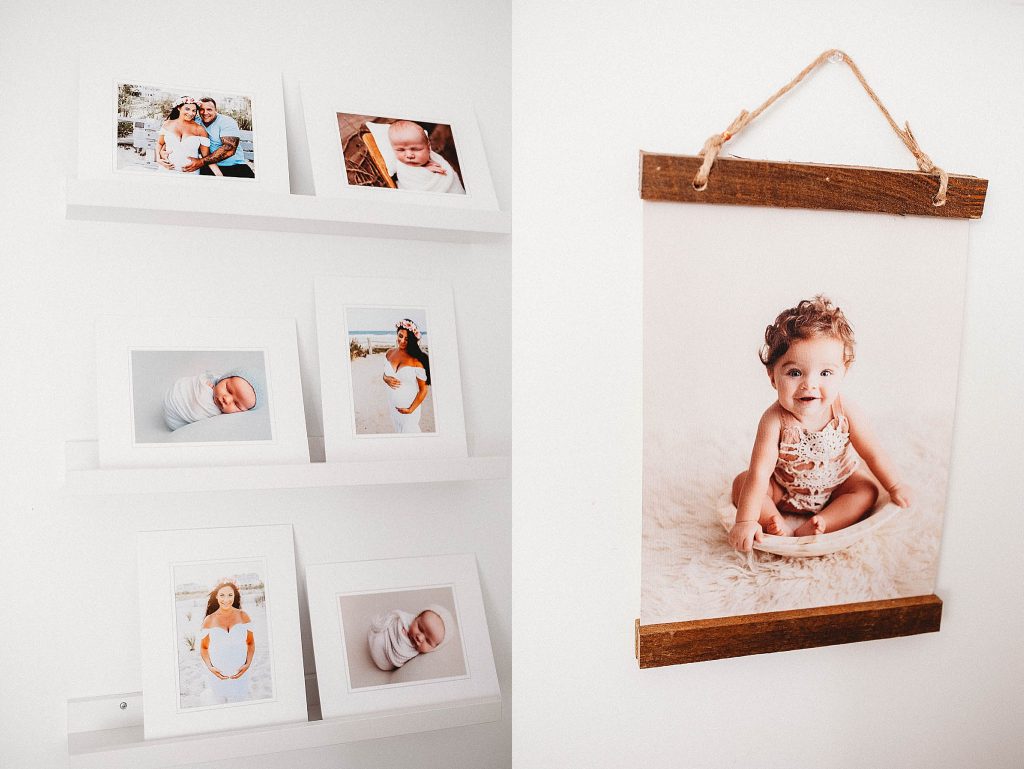 Here in the back corner is my coffee/snack bar (empty at the time of this post because my little crumb snatchers had themselves a feast!) and some more of my product samples of my gorgeous clients. Above the coffee bar are my round photo blocks in 8″, 12″ and 16″ sizes. These blocks look great in groupings like this- some clients add squares mixed in as well which looks wonderful.
On the opposite wall are some matted 5×7 prints, a lovely way to display small gift print sizes. These also fit in my linen folio box which clients love! Below the matted prints is my 16″ Lagniappe hanging canvas- EVERY client has to touch this because it's such a gorgeous and unique product!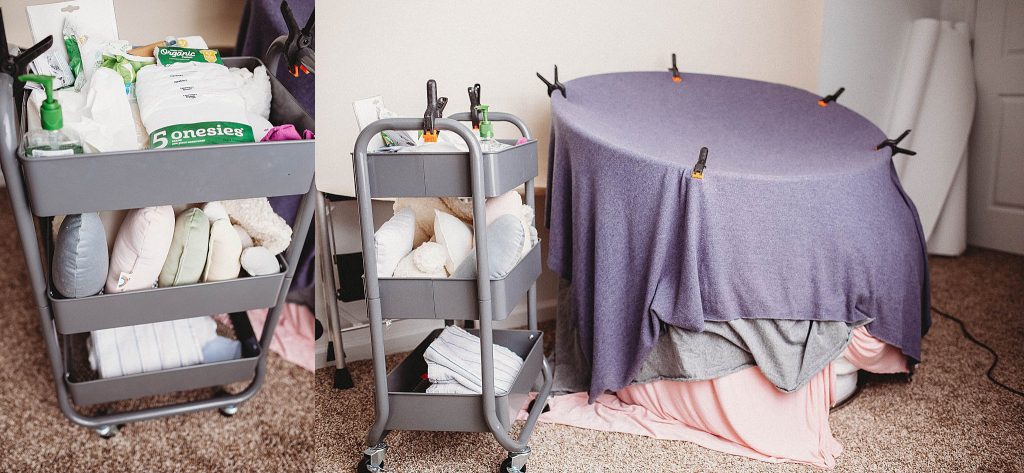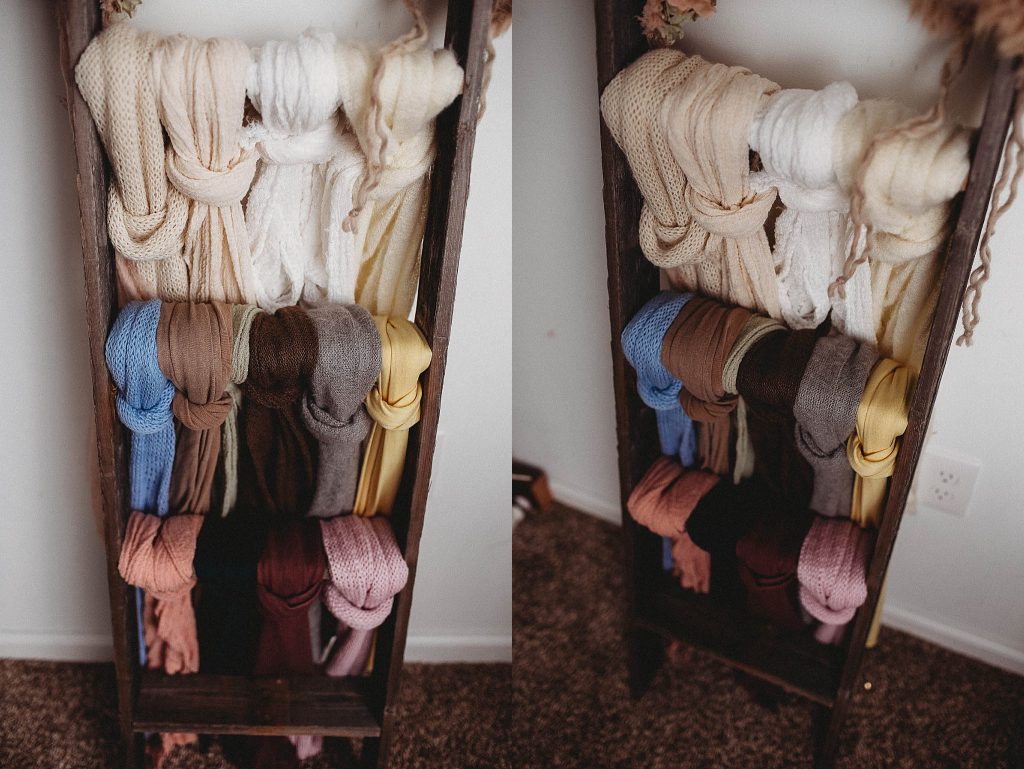 Believe it or not, this is only like 20% of my wrap collection. The rest are in a separate prop closet- which is not as beautiful as the rest of the space 😉 My favorite wrap vendors are LukeOwlLilly, Beautiful Ewe and Red Owl Photo Props.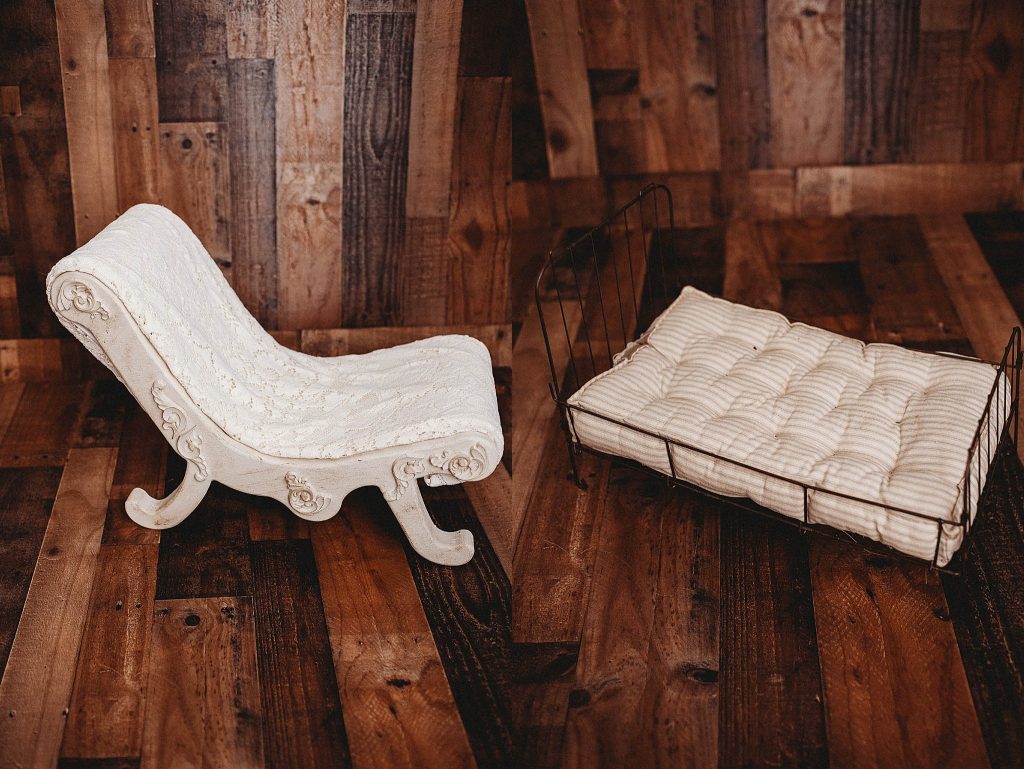 Above are two of my seating props- I have SO many. The fainting couch is a newer addition and every girl mom has been obsessed. There are also some of my neutral layers shown, I am always throwing these in to add some more texture and am obviously a HUGE neutral/cream/ivory fan!
So there you have it! From light & airy to consistent studio light, I have it all in my comfy home studio in Galloway NJ. Ready to have your own session here? Let's start planning! Head over to my contact form and I'll be in touch by tomorrow- I can't wait to hear from you!