How to DIY Your Newborn Photos During the COVID-19 Pandemic
*This article contains some affiliate links
How's this for a topic I never thought I'd have to discuss? To say the least, times are tough right now. I am officially postponing sessions until the quarantine protocols are lifted. Not only because I am pregnant myself, but there have been confirmed cases in both newborns and pregnant women and that's not something that is worth subjecting myself or my clients to. I can confidently say having to make decisions like this are new to me and I hope to navigate this situation as best as I can.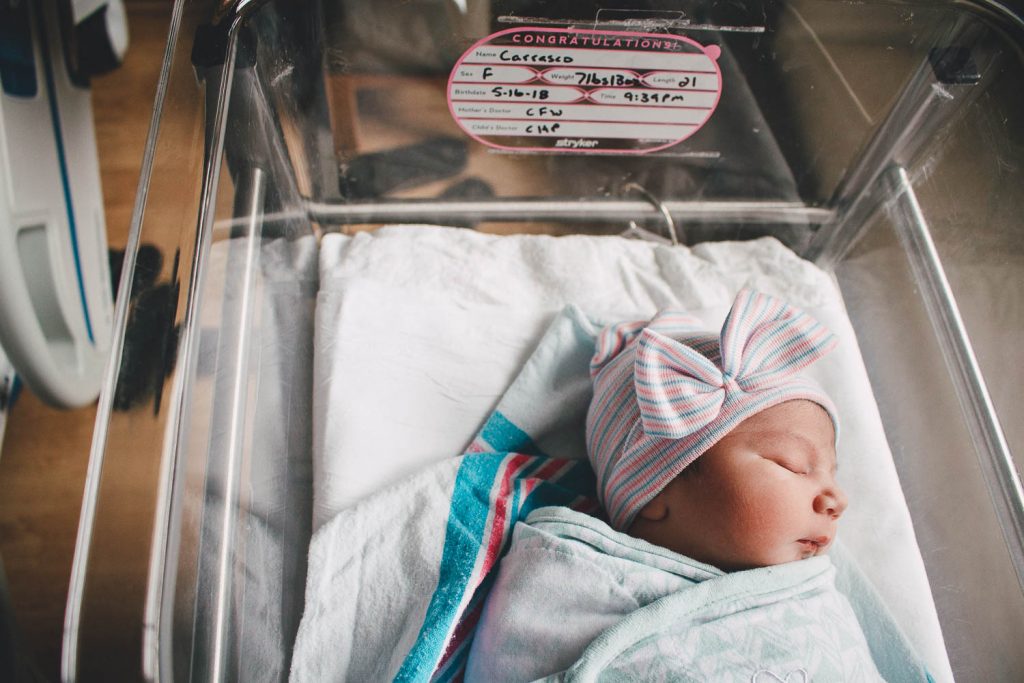 An unfortunate consequence will be that many new families may be without professional photos of their babies as originally planned. As I always emphasize, your baby's first few weeks are such a fleeting and important time to capture, as they grow and change so quickly.
I'm going to break this topic into two parts: photographing your baby in the hospital (since hospitals are not allowing more than one visitor/support person) and photographing your baby at home. Obviously this post can't substitute for years of learning or hands on workshops, but I'll do the best I can to advise on taking the best portraits you can of your baby so you have SOMETHING to remember how tiny and sweet they were during these first few weeks of life.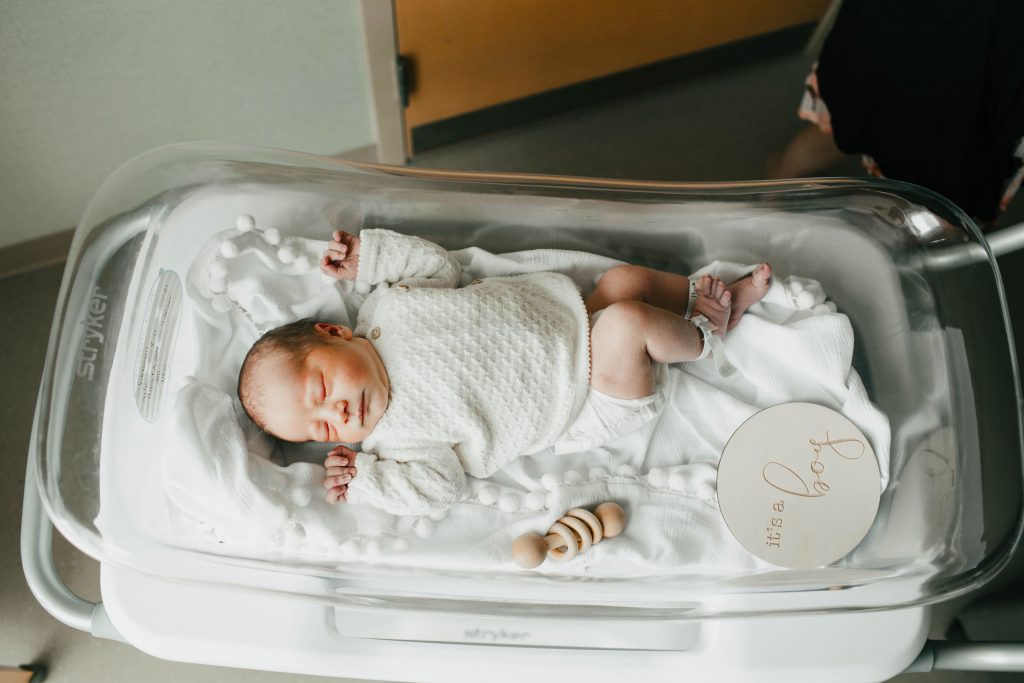 For photographing your baby in the hospital:
Less is more! No need for all the fancy props for these sessions! When I shoot them, the hospital room setting and the little outfits the hospital provides are scenery enough. These are more of a documentary type session, so capturing the environment as it is is plenty enough. Some "minimal" props I will bring to add to the environment are wooden signs, rattles, delicate knit onesies or bonnets, and letter boards to write out a fun message welcoming your new little one.
Turn off the overhead lights. The hospital room lights cast an unflattering orange/yellow glow that competes with the natural light coming through your window. It's best to shoot these sessions WITHOUT flash (unless you're proficient in using off camera flash) and simply use the ample light coming in from outside. Make sure to shoot these sessions in the morning or early afternoon, whenever the sun is making an appearance by your window. This will vary depending on location of different hospitals and even rooms on the same floor.
Photograph baby from above while laying in their bassinet most hospitals have babies in the rooms with a bassinet. This angle lets you truly see how tiny baby is! Utilize the little kimono onesies the hospital provides for these, they are truly some of my favorite hospital baby images.
Details, details, details! Take photos of baby's hospital bracelet, their ink footprint, the sign hanging on the wall in your room, balloons or flowers, their first bath, etc. No detail is too meaningless or insignificant.
Move around! Different ideas for taking photos in your room are standing in front of a window with the light behind you (known as backlighting), on the hospital bed with your baby on your chest, standing beside the bassinet looking down at your baby inside, etc. Get creative!
Ask a nurse to snap a quick family photo! If your nurse has a spare moment, consider asking them to snap a shot of your family as a whole. Make sure to pose by the window so the image isn't too dark or grainy. You may not look or feel your best, but it's always worth getting the shot. Time this for after your first shower and if you're feeling up to it, put on some mascara and concealer- these two go a long way in making you appear less sleepy WITHOUT going full-face of makeup hours after childbirth.
Pack a cute nightgown or robe ahead of time While I have NO problem photographing moms while still in their hospital gown, many moms feel their best just by putting on their cute pajamas. If you don't already have something, see if you can have Target or Amazon ship you something light to pack in your hospital bag. There's some cute options with prime shipping here, here, here and here.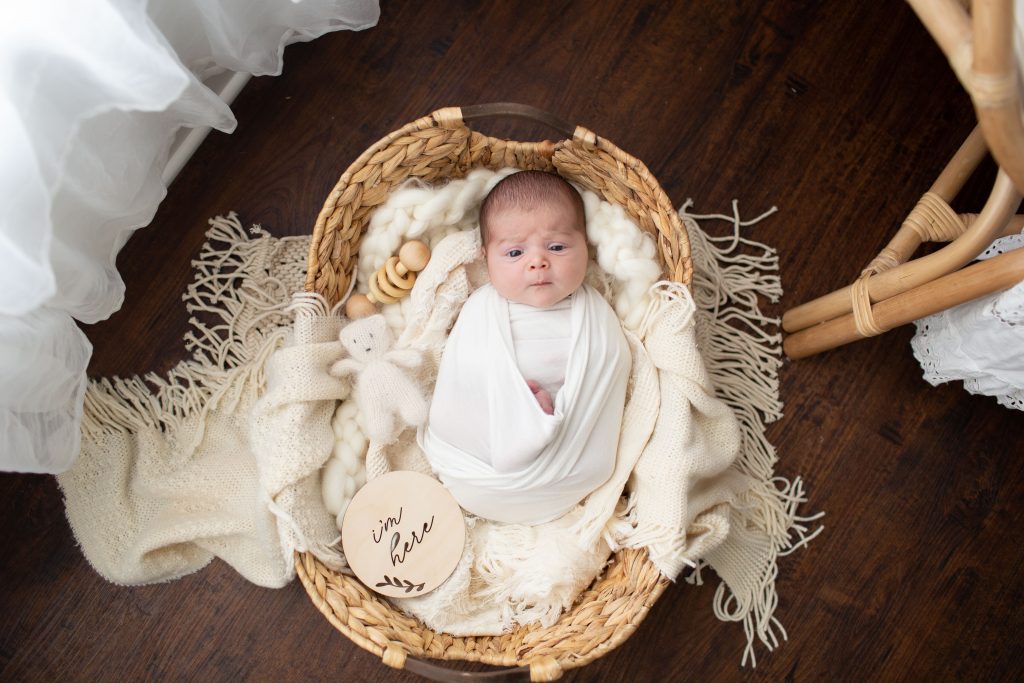 For photographing your baby at home:
Find a window. Light is light, photographing subjects is just a matter of manipulating the light to be the most flattering. Find the largest window or sliding door you can and pick a time of day when the light shines into the window. However, make sure to avoid HARSH light (think the streaks of sunlight that shine in and cast shapes on the floor-my dog loves laying in these spots haha) if you can order some sheer curtains on Amazon to diffuse that light, this will be your best bet. Avoid going out to the stores to buy anything right now.
Go minimal on the props, grab textures you have around the house. A rule of thumb is if your forearm can fit inside the prop, you can fit a baby in it 😉 If you have any neutral textured rugs, wooden bowls, crates, greenery, pieces of fabric, etc- use those! In my opinion, the more layers/textures, the better. They add more dimension to the image.
Skip the expert poses. This isn't the time to attempt things like froggy pose or anything where you have limbs or fingers curled perfectly into place, as these types of poses should only be taught by trained professionals and need to be done safely to ensure a newborn's breathing isn't impeded. Keep it simple with baby swaddled up, laying on their backs or sides, maybe hold a hand up by their cheek.
Regarding swaddling– I wish I could give you the key to achieving expert swaddling on your first try, but the reality is it takes many many tries to nail it just right. However, keep in mind when finding a swaddle wrap that fabrics like jersey knit work best. You can order these on Amazon as well if you don't have any jersey knit fabric lying around. I have noticed a lot of the trendy stores like Spearmint Baby, Caden Lane, and Lou Lou and Company have been using nice stretchy fabrics for their swaddles so if you have any of these, try them! Keep the wrap nice and tight, but not so tight that you hear baby grunting when they breath.
Pass the camera off to get some parent shots. If your partner is quarantined with you, ask them to grab the camera (or phone) and stand perpendicular to the window- don't stand with the window behind you, or too far away from the window. You want the window light to be coming from a 90 degree angle across the side of your body- this will be the most flattering lighting. As far as posing angles go, make sure your partner is shooting DOWN on you, not directly in front or from below. The angle from slightly higher up will be the most flattering. Wear neutral colors like black, white or beige. Avoid patterns like plaid or floral. A pretty lace kimono over a simple white cami is one of my favorite looks for parent poses!
Don't forget the details. Get close ups of baby's toes, peach fuzz on their back, their fingers, their dimples, any birthmarks, eyelashes, etc. These details will change SO quickly and you don't want to forget them!
Regarding editing- most people probably don't have or are proficient in Photoshop or Lightroom, however there is a free Lightroom app you can download to load your images into. You don't want to go crazy on presets or anything, all you need to know for now are a few basics. If your images are too bright, lower the exposure slider until they look appropriate. If the whites in your image are way too bright (also called blown out) lower the highlights slider. Add a bump of the contrast slider for some depth to the colors in your image.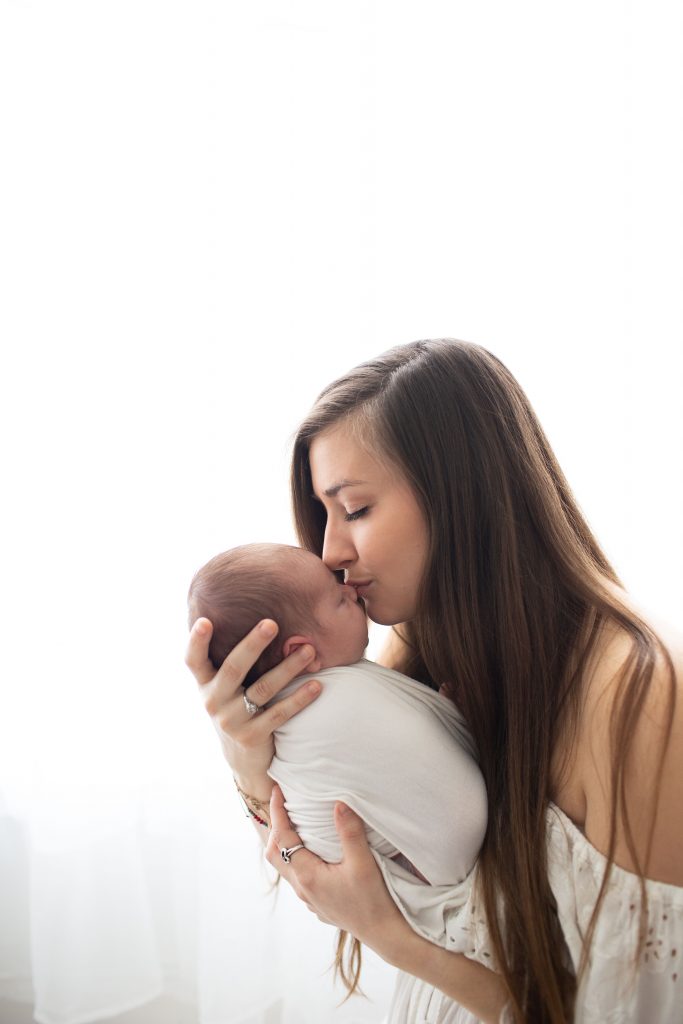 So those are my tips! I hope you found this useful. If you utilize any of my tips, PLEASE tag me on Facebook or Instagram @Ally Kimpton Photography as I would love to see your results!! Not only can you use some of these tips for your newborn's portraits, but they will help you take better daily life photos as they grow up too.
Please feel free to share online with your mama friends who may be impacted by all of these small business shutdowns during this time.
I am sending love and light to the mamas bringing a baby into the world at such an anxious time, and I hope you'll be able to use this opportunity to truly "lie-in" for a few weeks with your new baby and enjoy every moment as much as possible. Stay healthy, stay safe, and I hope to see you all back in my studio once this has all been put behind us.
Ally is a South Jersey maternity & newborn photography located in Galloway, NJ. To book a session for later in 2020, fill out this contact form.